The surge of cryptocurrency adoption has ushered in a new wave of digital art. Now more than ever, the world is open towards the revolutionary creation called NFT. If you're curious to know more about what exactly these "non-fungible tokens" are, check out our article: What is an NFT?
That said, if you're reading this, that means you've already heard that millions are fed into NFT daily and you want to learn how to buy an NFT as well. If you don't already have some of these tokens in your ownership, this guide will take you on an exciting journey – you'll learn about NFTs and how easy it is to buy them yourself!
First, we'll give you an overview of what the entire process includes and guide you through the necessary actions. Later in the article, we'll give you a step-by-step guide on how to buy NFTs on the SolSea marketplace so you can get started on your collector journey right away!
We're starting with the basics, so if you already have a wallet with cryptocurrency on it, you can skip to the core tutorial.
1. Create a crypto exchange account
A crypto exchange is a platform that allows users to buy and sell cryptocurrencies. This is where you can get the currency you need to buy an NFT. You'll need an exchange account to begin. Some notable crypto exchanges include Binance, Gemini, Kraken, but there are many others to choose from. You can install the mobile app or visit the website of your chosen exchange to get started.
On Binance, you will see a tab to register after opening the app. You can make an account with your email or phone number. Note that most exchanges including Binance require verification. To complete the process, you need to have a credible means of identification. After the crypto exchange has verified your identity, you can deposit money and trade.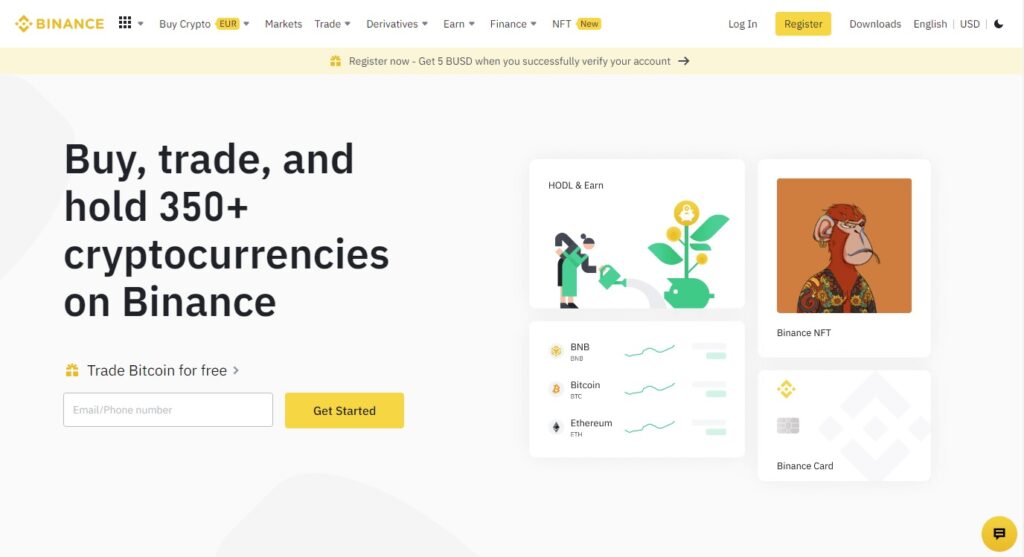 2. Buy ETH
Keep in mind that most NFTs are built on the Ethereum blockchain. Hence, you will need Ether (ETH) to purchase them. On Binance and other exchanges, there is a 'Buy Now' tab on the home page. Choose the cryptocurrency you would like to purchase (in this case, pick ETH). Then insert the amount of fiat money (for example USD) you would like to deposit and continue onto the next step. You may use a debit or credit card to complete the process. Enter the necessary card details to link your card to your account. When your card is added, you can deposit money easily.
3. Set up a crypto wallet
A crypto wallet stores your public and private keys. In simple terms, your public key serves as a public address that you can share to send or receive cryptocurrency. Conversely, your private key is a secret key used to access your wallet. You need a crypto wallet to buy NFT art from an NFT marketplace. One of the most used crypto wallets is the MetaMask wallet because it is compatible with many NFT marketplaces.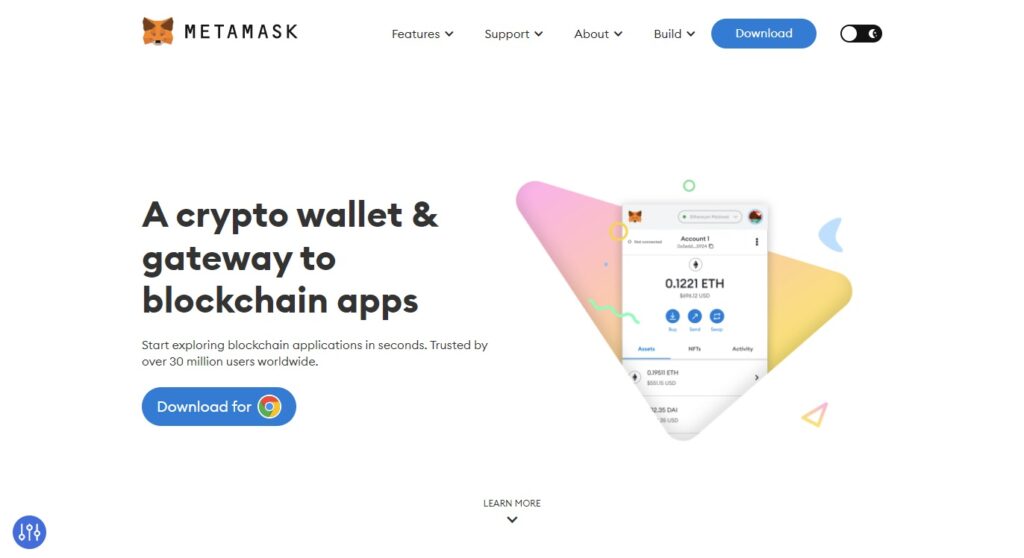 To set up a MetaMask wallet, download the MetaMask mobile app or install the MetaMask extension to your web browser. When the installation is finished, you'll see the app's home page. In the center of the home page, click on the 'Get Started' tab. You will get the option to import an existing wallet or create a new one. If you don't have one, click on 'Create a wallet'. Make sure you use a strong password to ensure your assets are secure once you start using the wallet. After agreeing to the terms and conditions, click 'Create'.
Your seed phrase will be revealed after clicking 'click here to reveal secret words' on the next page.
A seed phrase is a group of words that grants you access to your crypto wallet. Keep your seed phrase as safe as possible and never share it with anyone. The best practice is to store it offline and keep it private. Note that MetaMask cannot recover your seed phrase if you lose it.
Click 'Next' and confirm your seed phrase by selecting the correct words in the right order as shown in the previous step. When you complete this process, your crypto wallet will be set up!
4. Connect your wallet to an NFT marketplace
An NFT marketplace is a platform where you can buy, sell and create NFTs. There are a plethora of NFT marketplaces where you can explore NFT art like OpenSea, Rarible, Axie Marketplace, Nifty Gateway, and so on.
When you find a market you want to buy NFTs on, go to the website and connect your wallet. In most cases, you'll find a wallet icon at the top right corner. Click on it and a list of wallets will be displayed. Select your preferred wallet and connect. On OpeanSea, you will be required to accept the terms and conditions before you can start using the platform. When you have reviewed your decisions and you are sure that everything is set, click 'Sign' or 'Approve'.
Congratulations! You have successfully connected your wallet to an NFT marketplace.
5. Buy an NFT
Now that you have connected your wallet to a marketplace, you can buy an NFT!
Ensure that your wallet is adequately funded with the cryptocurrency used on the marketplace. To buy NFTs on OpenSea, for example, you'll need to have ETH in your wallet. After you've explored the various categories on the platform and found an NFT you want to buy, click the 'Buy Now' button.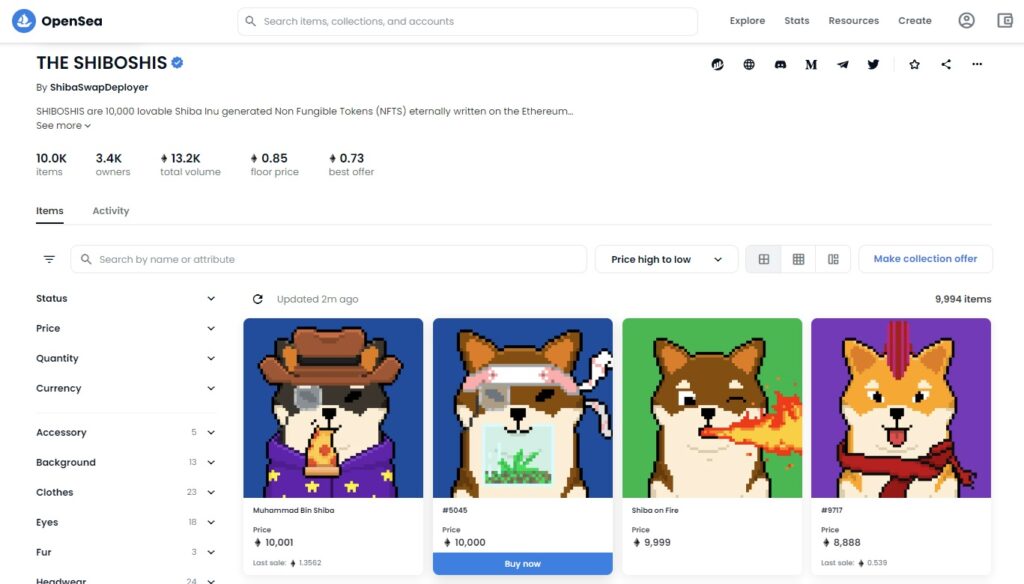 Sometimes, you'll be asked to agree to the terms and conditions before you can go to 'Checkout'. You'll see an overview of the price of the item you've chosen to purchase and the gas fees you'll need to pay to complete the transaction.
Alternatively, you can place a bid on an NFT by clicking 'Make an offer'. Input the amount you wish to pay and the offer expiration date. Select 'Make Offer' and sign the necessary transactions. If the owner of the NFT accepts your offer, you'll find it in your wallet!
How to buy NFTs on SolSea?
SolSea is an NFT marketplace built on the Solana blockchain. The platform's features are focused on propelling the growth of NFT art and creators alike. SolSea offers improved speed and scalability with the help of the Solana blockchain, as well as fees that are some of the cheapest on Solana, providing a seamless experience.
The following are steps to buy an NFT on SolSea:
1. Purchase SOL
To buy NFTs on SolSea, you'll need to have the required currency – SOL. You can purchase SOL on a crypto exchange before creating an account on SolSea, or you can fund your wallet directly on the platform. SolSea has integrated support for buying SOL, as well as buying NFTs with fiat currencies using just your regular credit or debit card.
2. Connect your wallet to SolSea
SolSea supports several wallets, but perhaps the most user-friendly option is the Phantom wallet. Click on 'Connect Wallet' in the top right corner and choose your preferred wallet. If you don't have a Solana-supported wallet, you'll need to create one first. The process is similar to what we described above, but here's a guide on creating a Phantom wallet. When your wallet is connected, you're ready to start buying!
3. Find an NFT you like
Feel free to explore the variety of NFTs on display by browsing the platform. Don't be shy and sneak into every nook of the website! You'll find a large variety of NFTs: from AI-generated digital art to 3D real estate for the metaverse. Alternatively, you can find specific collections by using the search bar at the top of the website. Perhaps you might have a certain category in mind – click on any of the categories below the search bar, ranging from Collectibles to Virtual, Comics, Education, and many more. After going through these sections, you will definitely find an NFT you'll love!
4. Buy an NFT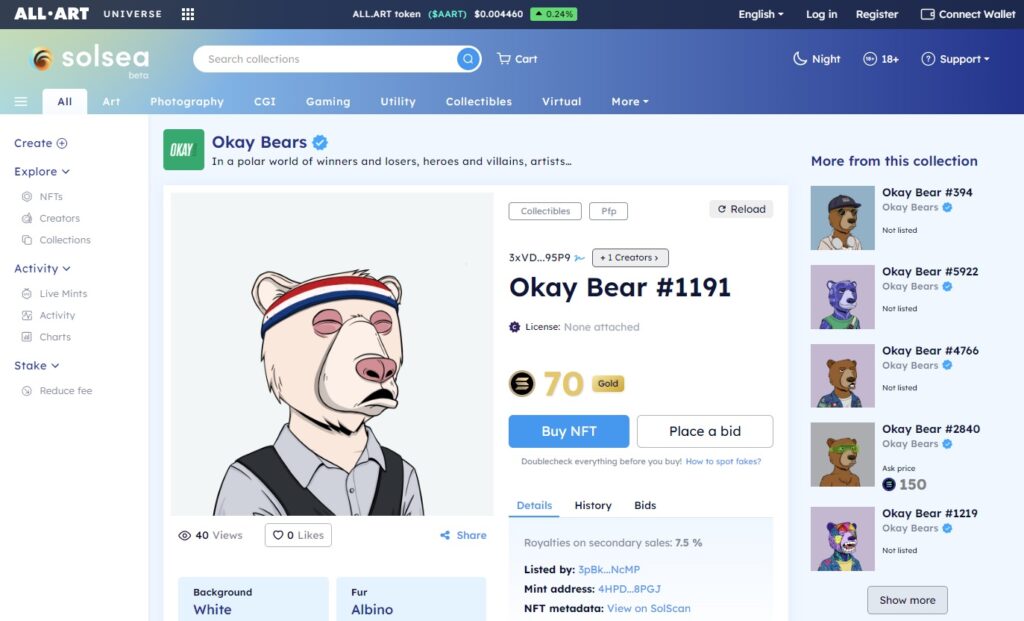 To buy an NFT on SolSea, click either 'Buy NFT' or 'Place a Bid' on an NFT's page. If the NFT is verified, you'll be able to buy it right away through the 'Buy' option. If not, you can place a bid on it and wait for the owner to accept it. Most NFTs on SolSea will have both options available, so you can choose whichever option suits your preference to buy NFTs.
To make all this even easier for you, we made a video tutorial that will teach you all you need to know about buying NFTs on SolSea! Check it out below:
Welcome to the NFT collector club! We encourage you to brag about your purchases on social media and share the beauty with the incredible NFT community.
How to invest in NFT?
As fun as NFT seems, it can also be a good investment. Here are soem ways you can invest in NFTs:
Selling NFT art – One of the most common ways of earning through NFTs is by selling your own art. You can easily mint and sell your NFT art and earn a decent profit.
NFT Flipping – This refers to buying an NFT and reselling it for a higher price. The value of NFTs can either decrease or increase based on various factors. Flippers usually buy NFTs like collectible cards with a promising future in hopes that their value increases over time and they make a profit reselling them.
NFT Staking – NFT staking is an act of locking up NFTs you own and receiving rewards for it. Staking is performed on networks using the Proof of Stake (PoS) consensus mechanism. It helps to secure the blockchain and maintain its efficiency. Staking is a low-risk form of NFT investment that can earn you rewards over time.
What is the most expensive NFT ever sold?
Coin Telegraph reported the most expensive NFT art ever sold to be "The Merge", sold by Pixel Art Killer (popularly known as Pak). According to Gemini, the NFT "mass", made up of 312,686 units of artwork, was bought by 28,983 collectors on the Nifty Gateway NFT platform for a total of $91.8 million. In theory, this NFT mass can be combined into a single NFT, making it the most valuable NFT art in the world.
Here are some other interesting NFT art:
As you buy your very own NFT, make sure that you follow the right procedures and always do your own research. Abide by the rules of the NFT marketplaces you choose to trade on and you'll enjoy your experience to the fullest.
If you are using NFTs as a way to earn some money, keep in mind that they are an investment so you should treat them as such. Feel free to come back to this article whenever you need to consult this guide on how to buy NFT art. Enjoy!